The Indian Almond Tree in full growth provides solace from natural elements like the sun, wind & rain; its leaves are a mix of green & dark red, & the actual almond seed is hard & green in colour – difficult to get through but possible to break. The Almond Tree Wellness Center originated from this concept where a single tree provides refuge for many & sometimes talking about sensitive issues are difficult but very possible, with the right approach.
Sexuality is central & an all-pervasive theme of human existence…
a fundamental aspect of human nature

Levay, Baldwin & Baldwin (2015)
At our center, we offer a safe & confidential environment to discuss any issues without fear, judgement or shame; we encourage our clients to share any relationship or sexual related issues to improve their well-being which is very important to us. Whether you require a consultation on your own or with your spouse our professional counsellor will be able to listen & cater to the concerns raised.
The Almond Tree Wellness Center, where your wellbeing comes first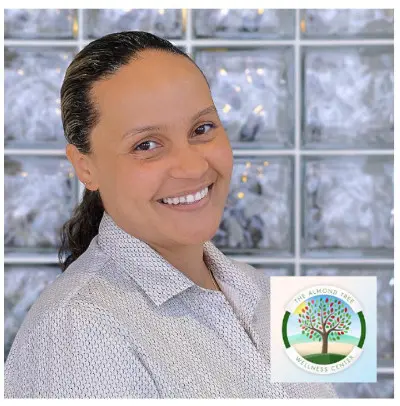 Catherine Holden (MBPsS)
Board Certified Sex Therapist
Certified Addiction Therapist
Certified Clinical Supervisor
BSc, MSc Psychology
Cathy Holden (MBPsS) is a Psychologist that specializes in Addictions, Sexuality & Relationships. She has a BSc & MSc in Psychology, from the University of East London, United Kingdom & is currently pursuing her PhD in Clinical Sexology at the International Institute of Clinical Sexology (IICS), based in the USA.

Cathy covers a range of areas such as; Enhancing Sexuality, Sexual Abuse & Trauma, Sexual Orientation, Gender Identity, Sexual Dysfunctions, Sexual Compulsion/Addictions, Aging, Disabilities, Alternative Lifestyles, General Relationship difficulties, Conflict Resolution; Communication; Relationship Damaging Behaviours & Relationship Dynamics. As a Psychologist she also deals with a range of mental health issues and provides therapy for couples and individuals.

Cathy has membership with the Therapist Certificate Association (TCA), British Psychological Society (BPS), Kenya Counselling & Psychological Association (KCPA) & is a Certified Clinical Supervisor (TCA).

Cathy is a sex columnist writer for Love Matters Africa; & uses the name "Katya The Sex Therapist, Kenya". She also practiced as a Human Resources professional (Occupational & Organizational Psychologist) for 13 years in a range of corporate & non-governmental organizations in Kenya & the United Kingdom. Having worked in Kenya & the UK, Cathy is knowledgeable & aware of the challenges that people may face in adjusting to a new culture or even just adjusting to a culture you once knew.

Contact Cathy today & start your journey on living with more peace, authenticity & freedom by being the best version of yourself.
NOTE: This form is for enquiries only. If you'd like to make a booking click here